Diversity and Inclusion in the Iowa Legilature
Sat, Jan 8, 2022, 9:00 AM ZOOM
Ross Wilburn is an American politician and social worker serving as a member of the Iowa House of Representatives from the 46th district (portions of Story County.) Elected in November 2018, he assumed office in January 2019. He serves on Standing Committees: Appropriations, Judiciary, State Government, Veterans Affairs (Ranking Member).
Ames Police Department and the Ames Community
Tues, Nov 9, 2021, 7:00 PM at Ames Public Library, PEO Room
Prior to becoming Ames Police Chief on July 1, 2021, Geoff Huff served as Interim Chief for nearly one year and has been in the department for nearly 27 years.
Learn more about his thoughts on community policing/community engagement in Ames.
Iowa Women's Hall of Fame Induction Ceremony: AAUW Iowa Member Jan Mitchell
Sat, Nov 6, 2021, 10 AM, Iowa Human Rights Facebook Page
Celebrate the 2021 Class of the Iowa Women's Hall of Fame. This year's inductees have made significant contributions in the fields of photography, education, humanitarianism, entertainment, and justice. The virtual celebration, open to the public, will be shown via the Department of Human Rights' Facebook page:  https://www.facebook.com/iowadepthumanrights
 Jan Mitchell (Des Moines, IA):  Educator, 1997 Iowa Teacher of the Year, 2019 Iowa Latino Hall of Fame Robert D Ray Award for Equity and Justice recipient. Over the course of her career, Jan Mitchell has been instrumental in assisting the education and social mobilization of hundreds of Iowa's Latinx students, championing women's rights, and prioritizing service-led compassion into her work with the community.
AAUW Names Gloria Blackwell as New CEO, Effective Oct 18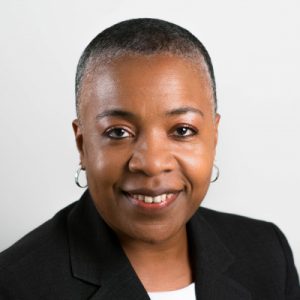 Blackwell, who currently serves as AAUW's Executive Vice President and Chief Program Officer, was chosen for the role because of her deep executive experience and her impressive record of innovative contributions to AAUW's mission, according to AAUW Board President Julia T. Brown.
"As AAUW proudly celebrates 140 years of advancing equity for women and girls this year, we know that Gloria is the right leader at the right time," Brown said. "Her outstanding talents are unparalleled assets to AAUW. The Board and all our members are privileged to partner with Gloria to continue to uplift our mission and vision of equity for all."   More on Gloria Blackwell
ISU Report on the Status of Women
Tues, Oct 12 at 7:00 PM, Ames Public Library, PEO Room
Dr. Sayali Kukday, and Dr. Ruxandra Marcu will share from the report of  the University Committee for the Advancement of Women and Gender Eequity, "What's it like to be a woman at ISU?"  For all programming this year, go to Calendar
Hard Won-Not Done: Closing Event Oct 4 at ISU Scheman
Ames members (L-R) Phyllis Peters, Diane Patton, Pat Newman and Jeri Prescott (not in photo) attended Iowa's statewide closing event to celebrate the 100th Anniversary of the 19th Amendment.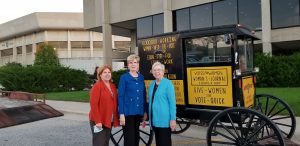 Marjorie J. Spruill, historian and author, shared her research on how our nation has evolved to become "Divided We Stand". The event was hosted by the Iowa State University Catt Center for Women and Politics.
Diversity and Inclusion in the Ames School District
Tues, Sept 14 at 7:00 PM, Ames Public Library, PEO Room
Join us for conversation with Dr. Anthony Jones and Mr. Yonas Michael of the Ames Community School District as we explore Diversity and Inclusion for students, faculty and staff in public education.  For all programming this year, go to Calendar
September 8 marks the date that Native women have to work into the new year to finally reach equal pay from the previous year.
Native women experience one of the most harmful pay gaps: taking home, on average, 60 cents to every dollar white, non-Hispanic men make. But as a notoriously understudied group, more research and data are needed, especially with respect to factors that cause and perpetuate the pay gap. We do know that Native women face high rates of systemic violence, poverty & healthcare disparities, all compounding a gender pay gap that endangers their economic security during a global crisis.
We need your voice to speak out: Native women and our country cannot wait.
Hard Won – Not Done. AAUW Iowa Joins the Parade

AAUW Iowa L-R: Ames Branch President & Past Iowa President Diane Patton, Iowa Treasurer Pat Higby, Past Iowa President Ann Gale, and  Des Moines Branch Leadership Team member Faith Sherman.
AAUW Iowa members joined other women's organizations in the "Hard Won – Not Done." entry in the Iowa State Fair Parade, Wednesday, August 11, 2021.  Wearing white clothing and replica "Votes for Women" sashes, the participants walked with a replica of a 1912 Woman Suffrage Wagon.  This was in (postponed due to COVID19) tribute to the 100th anniversary of  the 1920 ratification of the constitutional right for women's vote The parade was live-broadcast on Iowa PBS and is available for viewing on their website.
Among the work to pass and then ratify the 19th Amendment to the Constitution granting most women the right to vote, women would often dress in white and wear sashes at rallies to draw attention to the need for equality of the vote.
  
The banner was held by rotating carriers.

AAUW members help carry the banner: Pat Higby on far left and Ann Gale on far right.
All ages participated.

Assembled prior to the parade.
Parade Link:  https://www.iowapbs.org/fair/story/38836/2021-iowa-state-fair-parade
Hard Won – Not Done. entry is located in the video at about 24:56 – 25:41

Two-Minute Activist: Paid Leave and Child Care
The U.S. Senate held two critical votes for our nation, advancing both the infrastructure bill and a budget resolution. But the work is not done. As women continue to bear a disproportionate burden of the ongoing health and economic crises, we must keep up the pressure to demand bold, responsive measures.  Tell Congress to ensure all workers have access to paid leave, child care and other critical infrastructure supports by including them in the final budget.

August 3 marks the date that Black women have to work into the new year to finally reach equal pay from the previous year. 
Black women working full-time are only paid 63 cents for every dollar earned by white, non-Hispanic men, meaning it still takes over seven additional months to equal their counterpart's pay for the previous year. And the compounding injustices of sexism and racism widen and reinforce this wage gap. At the current rate, Black women will not see equal pay with white men for over a century. That is another century of inequities and crises like the COVID-19 pandemic, where Black women have less economic security to sustain themselves. Another 100 years of inequality and injustice.
We need to update our laws to ensure all workers can take home a fair paycheck, and the Paycheck Fairness Act is one big piece of legislation aimed at just that. This past spring, the House of Representatives passed it with bipartisan support, but the U.S. Senate failed us in June. During a pandemic, with Black women doing essential jobs keeping our economy going but making less than men doing the same job, it is our duty to ensure paycheck fairness for all.
You must stand up for equal pay and ensure your senators hear you loud and clear. The AAUW Pay Equity Activist Toolkit provides guidance on contacting your senators, writing to your newspaper, and engaging in the conversation—all important actions where we need you. We must call on all elected officials to listen to voters, who overwhelming support pay equity, and work to pass this important bill. And it must happen now.
Urge your senator to do their part by supporting the Paycheck Fairness Act today
Join Us and Be Part of the 2021 Iowa State Fair Parade!
When:  Wednesday evening, August 11, 2021  Downtown Des Moines.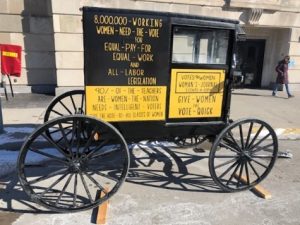 Parade Entry: Hard Won. Not Done. The Iowa  19th Amendment Centennial Commemoration Committee, along with the League of Women Voters, Nexus Executive Women's Alliance and other supporting partners invite people of all ages to walk alongside a replica Suffrage Wagon. Original wagon housed at Smithsonian National Museum of American History.
Time: Parade begins at 6:15 PM Plan to arrive at Iowa State Capitol Complex staging area by 5 PM.* Parade officials will tell us our staging time and parade number about 1 week before parade.  This is Iowa's largest parade with more than an estimated 50,000 spectators lined up  along the route.
Parade Route: The parade starts at the Iowa State Capitol Complex and  heads west on Grand Avenue to Pappajohn Sculpture Park. The 1.7-mile parade route is mostly flat. Walkers need to arrange transportation back to their vehicles. Vehicles are not allowed inside parade staging area.
Parade Attire: Please wear all white in tribute to the suffragists who worked 70 years for the passage of  the 19th Amendment. Comfortable walking shoes a must!
Perceptions of Identity – Paintings by Rose Frantzen at Christian Petersen Art Museum, Morrill Hall, Iowa State University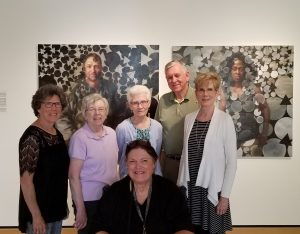 AAUW AMES OFFICERS 2021-2022
The following officers were elected or appointed this spring to serve the branch this year.
President: Diane Patton, Program Convener: Jean McMaken. Secretary: Polly Gilbert, Treasurer: Phyllis Peters, Membership: Mary Ann Lundy, Yearbook Editor: Carol Miller. Additional appointees will be named.
The Good Readers Book Group has selected nine titles which will be discussed during monthly gatherings beginning in September 2021 through May 2022. The schedule is posted at this link: Good Readers Schedule
Dr Connie Hargrave and Dr Barbara Woods: Becoming an  Ally to Dismantle Systemic Racism – Tues, May 11,  7 PM Zoom
Dr Connie Hargrave is the newly named associate dean for the College of Engineering and previously was on faculty in the Dept of Curriculum and Instruction, College of Education and Director of ISU Science Bound which focuses on preparing students of color. Much of her teaching and research focused on using technology to develop STEM knowledge in K-12 students.
Dr Barbara Woods is Special Projects Manager for ISU Human Sciences Extension and Outreach and adjunct assistant professor in Human Development and Family Studies. She was among 12 women featured in the 2018 Women Impacting ISU calendar.
Dr George Belitsos: Progress in Iowa's Fight to End Human Trafficking – Tues, April 13, 7 PM Zoom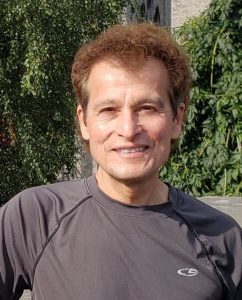 Dr Belitsos is Founder and Board Chair, Iowa Network Against Human Trafficking and Slavery and (Retired) Founder and CEO of Youth and Shelter Services of Iowa. Dr Belitsos also serves on the board of directors of the International Rotary Action Group Against Slavery.
Join us to learn more.

March 24th marks the date that women have to work into 2021 to finally reach the pay men took home in 2020 alone. 
We've long known that on average, women who work full-time take home less than men – about 82 cents on the dollar – and that many women of color are paid far less. But the COVID-19 pandemic is revealing and exacerbating those economic inequalities.
This time of crisis has made it very clear: A lifetime of pay discrimination adds up. The gender wage gap is dangerous and it continues to hurt our nation's workers and our national economy.
This Equal Pay Day it is more important than ever that Congress do their job to update and strengthen the Equal Pay Act of 1963 by passing the Paycheck Fairness Act. This bill would take meaningful steps to help close the gender pay gap. Here is where you come in. AAUW's Paycheck Fairness Act Toolkit outlines critical ways you can do your part to fight for equal pay:
Contact your members of Congress.
Write a Letter to the Editor.
Speak up on social media.
Talk to your family and friends.
The time to act is now. The Paycheck Fairness Act – which passed the U.S. House in 2020 – is being considered again now. Last week, the U.S. House of Representatives Committee on Education and Labor held a hearing on it. Congress must now move this bill forward to ensure all women have the tools they need to challenge discrimination and all employers have the incentives they need to comply with the law. To make equality a reality, we need you.
Mark All Women's Equal Pay Day and support the Paycheck Fairness Act now! 
Ames Women Entrepreneurs Share Pandemic Experiences – Tues, Mar 9, 7 PM Zoom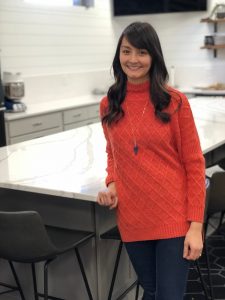 Our Women's History Month program is "The Impact of COVID on Women-Owned Businesses." Join us to hear Lyndsey Fennelly of Campus Cycle, Kristin Roach of Little Woods, and Mindy Bergstrom from Cooks Emporium and Nook & Nest!
Feb 9, AAUW Fellow and Fellow Finalist at ISU Present: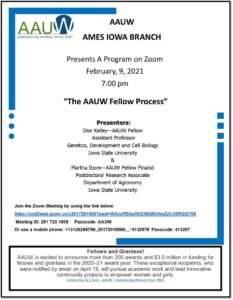 AAUW Reponse to Jan 6 Assault on U.S. Capitol
The mob used hateful language and displayed symbols of white supremacy as they forced their way into the hallowed halls of Congress. We mourn the loss of the five individuals killed in the attack, including Capitol Police Officer Brian Sicknick, and the many others hurt.
And, as we collectively work to understand the roots of our nation's divisions, we ask you to actively engage in efforts to defeat white supremacy: Please review our new Diversity, Equity and Inclusion toolkit and plan to attend our town hall webinar on Tuesday, January 19 at 4 p.m. ET with AAUW Board Chair Julia Brown and the Racial and Social Justice Working Group. 
To see the full response written by AAUW CEO Kimberly Churches, go to https://ames-ia.aauw.net/response-to-jan-6-us-capitol-attack/

Wed Nov 11, 2020 – Shop on AAUW Benefit Day:
On-line Midnight to Midnight or In the Store 10 am- 5pm

Dr. Ruxandra (Sandra) Looft: Start Smart Workshops at ISU
November 10 at 7:00PM Zoom
Dr Looft, Faculty Affiliate, Women's and Gender Studies. https://sloss.dso.iastate.edu/about/meet-the-staff/ruxandra
The Sloss Center for Women and Gender Studies administers AAUW Smart Start, a program from AAUW focusing on providing college students with the knowledge and negotiating skills necessary to receive fair and realistic compensation when entering the job market. Dr Looft will share ISU's experience.
https://sloss.dso.iastate.edu/programs—events/start-smart

Replay the Three Candidate Forums:
Presented by a Collaboration of  AAUW Ames and  League of Women Voters – Ames/Story County via Webex : 2020 Story County Candidate Forums
Virginia Hartwell Davidson Richards
A third-generation AAUW member and AAUW Ames former president, Virginia Richards died July 22, 2020.  Virginia Hartwell Davidson Richards
19 Facts About the 19th Amendment on its 100th Anniversary
Dr Dianne Bystrom, Former Director, and Dr Karen Kudrowski, Director, of the Carrie Chapman Catt Center for Women and Politics, Iowa State Universiity, provide information about the 19th Amendment.
Disclosure statement:  Dianne Bystrom is affiliated with the League of Women Voters, a non-partisan, non-profit, political organization. She currently serves as the co-president of the League of Women Voters of Nebraska (2019-2021).  Karen M. Kedrowski received funding from Humanities Iowa and the National Endowment for the Humanities. She is also a member of the League of Women Voters.
https://theconversation.com/19-facts-about-the-19th-amendment-on-its-100th-anniversary-134517
AAUW Stands Against Racism
The following is a statement from AAUW CEO Kimberly Churches,  June 1, 2020
AAUW joins the country in mourning the losses of George Floyd, Ahmaud Arbery, Breonna Taylor and countless other people of color who have been unjustly killed across our nation. Our country needs healing. But healing will only come with justice. As an organization we condemn racism.
Systemic racism is firmly rooted in the U.S. and today's injustices mirror our shameful history — from police brutality to the disproportionate impact of COVID-19 on communities of color. There can be no justice or equality when Black and Brown communities are seen as less deserving of basic human and civil rights.
On behalf of our 170,000 members and supporters, we commit to fighting for justice, long-term and lasting change, and we stand in solidarity against racism. We also acknowledge that as an organization we have our own work to do.
And, as a member of the Leadership Conference on Civil and Human Rights, we will work to advance the policies and systemic changes identified in the New Era of Public Safety: A Guide to Fair, Safe, and Effective Community Policing and Vision for Justice platform.
Impact of AAUW Start Smart Workshop
I have impostor syndrome
by Megan Ziemann, Opinion Columnist, Iowa State Daily (Published Iowa State Daily, June 11, 2020. Used by permission)