AAUW Ames Celebrates 100th Anniversary May 12, 2018
[Front row: Carol Miller, Nancy Maydew, Jane Edwards, Barbara Peterson, Sabina Peters-Daywater, Darlene Harl, and Phyllis Peters. Back row: Margy Howarth, Jean McMaken, Suzanne Peters, Peggy Faden, Mary Ann Lundy, Patricia Newman, Lynne Bishop, Carol Alexander Phillips, Jeri Prescott, Diane Patton, Betty Conkin, Nancy Marks, AAUW Iowa President Ann Gale, and Carol Weber.]
During a festive brunch held at First Methodist Church, AAUW Iowa President Ann Gale shared congratulations from the Iowa Board of Directors and her favorite ways AAUW advances equity for women and girls through advocacy, education, philanthropy and research. She also highlighted programming about mental health issues during the recent Iowa meeting in Fort Dodge.
AAUW members Peggy Faden and Carol Weber presented musical selections.
A display highlighted AAUW Ames activities and impact through the years. The branch has been instrumental in underwriting graduate students at Iowa State University for decades. More recently the branch has supported Campus Action Projects at ISU (Elect Her; Graduate Womyn of Colour Sister Circle Meet-up ) and has provided camperships for middle school girls to attend AAUW's Tech Trek camp at Buena Vista University.
Reflections on Women's Voting Rights – by Nancy Marks, AAUW Ames Historian
The Nineteenth Amendment was ratified on August 18, 1920 and added to the United States Constitution. It granted American women the right to vote in all elections in the United States. Prominent women in the Women's Suffrage campaign were Susan B. Anthony and Elizabeth Cady Stanton. Women demonstrated outside of the White House as protesting "Silent Sentinels" and further street demonstrations that saw them imprisoned. This amendment was unsuccessfully challenged in the USA Courts. A remembrance has been celebrated for many years as "Women's Equality Day" on the August 18 date. The 50th Anniversary in August was in 1970 and rallies were held to commemorate this date across the nation.
The Voting Rights Act of 1965 prohibited states from imposing any "voting qualification or prerequisite to voting, or standard, practice, or procedure … to deny or abridge the right of any citizen of the United States to vote on account of race or color." In 2013, the ruling in Shelley v. Holder before the Supreme Court weakened the Voting Rights Act of 1965. Many states allowed the state legislatures to decide the Congressional Districts for their states and this led in many cases to "gerrymandering" which put many persons of one party in one district, allowing one party to consistently win the district. Iowa is an exception to such systems, as a Commission is appointed involving persons equally of both parties and both men and women which protects the rights of all voters.
The American Association of University Women – AAUW- is dedicated to preserving the rights of all citizens to vote in accordance with the spirit of the original Voting Rights Act of 1965. AAUW encourages honoring Women's Equality Day by registering eligible voters, to hold forums to explain voting regulations and to advocate for women's equity. This right to vote –secured 97 years ago is a priceless right for all citizens but so very highly prized by women as it was a difficult right to gain.
In 1970 – 50 years after the 19th Amendment, the AAUW of Ames had a program that was presented by their legislator to answer questions about recently passed legislation on "Urban and Environmental Problems" so as to become more educated voters.
In 1980 – 60 years after the 19th Amendment – the AAUW of Ames held a program on "A Look at How Iowa Laws Affect Women" presented by Mary Richards, then Story County Attorney.
In 2000 after 80 years of the 19th Amendment- the topic " A Celebration of Iowa Women in History"  was presented by a panel of members.
In 2010 after 90 years of the 19th Amendment – the AAUW held a program on "Notable Women in Ames" presented by Kathy Svec from the Ames Historical Society with numerous photos and stories.
In 2017-18, during AAUW Ames centennial year – two programs were presented to the public in collaboration with Ames Public Library, AAUW Ames, Carrie Chapman Catt Center for Women and Politics at ISU and the League of Women Voters of Ames and Story County:
"Experiences of Being Ames Mayor and A Woman in Politics" by Ann Campbell;
"The Power of Women in Politics by Dr. Kelly Winfrey, assistant professor with ISU's Greenlee School of Journalism and Communication and faculty with the Leadership Studies Program of Carrie Chapman Catt Center for Women and Politics.
All of these special presentations are to remind the members of the rights and privileges gained by being able to vote and encouraging others to do the same.
Reflections  on the Equal Rights Amendment- by Nancy Marks, AAUW Ames Historian
Program for AAUW Ames – January 8,1974: "Current Issues on the Legal Status of Women: Ratification of the Equal Rights Amendment by State of Iowa" – Presented by Ruth Harkin, Story County Attorney and Eloise Rippey, Family Environment Department of Iowa State University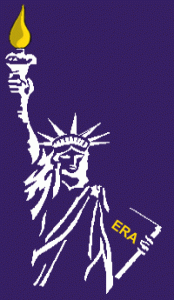 In 1923, suffragist Alice Paul had introduced the ERA in Congress as the next step to bring "equal justice under law to all citizens."
"Equality of rights under the law shall not be denied or abridged by the United States or any state on account of sex."
The Equal Rights Amendment was passed by Congress on March 22, 1972 and sent to the states for ratification. In order to be added to the Constitution, it needed approval by legislatures in three-fourths (38) of the 50 states.  On March 24, 1972, Iowa became the fourth state to ratify the ERA.
The ERA was to take effect two years after date of ratification of 38 states. In 1978, after only 35 states had voted for ratification, Congress voted to extend the original March 1979 deadline to June 30, 1982. However, no additional states voted yes before that date, and the ERA fell three states short of ratification.
UPDATE 10/5/2017:
Iowa, in 1998, along with eleven other states passed a State ERA after the National Amendment was not ratified.
On March 22, 2017, 45 years to the day after Congress passed the ERA, Nevada became the 36th state to ratify it.
Without the ERA, women are in danger of having rights taken away. In 1972, Title IX Amendment to the Civil Rights Act of 1964 states that: "No person in the United States shall, on the basis of sex, be excluded from participation in, be denied the benefits of, or be subjected to discrimination under any education program or activity receiving Federal financial assistance." However, it has been challenged in bills before Congress in the past and the Trump administration in Sept 2017 rescinded Obama-era federal guidance on campus sexual assault. Efforts provided by bills in Congress to help passage of the ERA Amendment: 1) Extend the deadline 2) Begin the process all over again 3) Expand the language in the ERA to make it more inclusive.
The ERA has been introduced into every Congress since the deadline. The passage of the ERA Amendment is considered as unfinished business for the nation.  ERA:  http://equalrightsamendment.org/