Calendar 2021-2022:
Tues, Sept 14, 2021, 7:00 PM at Ames Public Library, PEO Room
Diversity and Inclusion in the Ames School District
Join us in conversation with Dr. Anthony Jones and Mr. Yonas Michael as we explore what diversity and inclusion means for students, faculty and staff in a public school.
Mon, Oct 4, 2021, 7:00 PM at ISU Scheman Building
Hard Won-Not Done: Closing Event, 19th Amendment Centennial Commemoration. Hosted by Carrie Chapman Catt Center for Women and Politics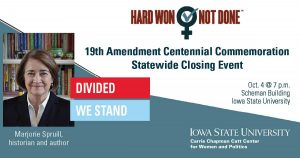 Tues, Oct 12, 2021, 7:00 PM at Ames Public Library, PEO Room
"Over 40% of faculty and students are women; women make up over 50% of the staff at ISU" – University Committee for the Advancement of Women and Gender Equity
Iowa Women's Hall of Fame Induction Ceremony
The Iowa Commission on the Status of Women invites you to celebrate the 2021 Class of the Iowa Women's Hall of Fame. This year's inductees (pictured below) have made significant contributions in the fields of photography, education, humanitarianism, entertainment, and justice. The virtual celebration will be shown via the Department of Human Rights' Facebook page: https://www.facebook.com/iowadepthumanrights and is open to the public.
Jan Mitchell, AAUW Iowa member, is one of four inductees this year:
Jan Mitchell (Des Moines, IA):  Educator, 1997 Iowa Teacher of the Year, 2019 Iowa Latino Hall of Fame Robert D Ray Award for Equity and Justice recipient. Over the course of her career, Jan Mitchell has been instrumental in assisting the education and social mobilization of hundreds of Iowa's Latinx students, championing women's rights, and prioritizing service-led compassion into her work with the community.

Tues, Nov 9, 2021, 7:00 PM at Ames Public Library, PEO Room
Ames Police Department and the Ames Community
Prior to becoming Ames Police Chief on July 1, 2021, Geoff Huff served as Interim Chief for nearly one year and has been in the department for nearly 27 years.
Thur, Nov 11, 2021   Time TBD     Fundraiser Night at Worldly Goods

Sat, Jan 8, 2022, 9:00 AM on Zoom
Diversity and Inclusion in the Iowa Legislature
Ross Wilburn is an American politician and social worker serving as a member of the Iowa House of Representatives from the 46th district (portions of Story County.) Elected in November 2018, he assumed office in January 2019. He serves on Standing Committees: Appropriations, Judiciary, State Government, Veterans Affairs (Ranking Member.)
Tues, Feb 15, 2022, 7:00 PM on Zoom
Pronouns Matter!
nicci port (she, her, hers) is known as a creative and connective problem-solver who brings people together to address matters that are important to the Iowa State community. Prior to her current role, nicci was active in inclusion initiatives through founding, chairing, and/or advising numerous LGBTQ-affirming groups, co-founding ISU's Faculty and Staff Association Council, and organizing the participation of underrepresented faculty, staff and students in campus-wide initiatives.
Tues, Mar 8, 2022, 7:00 PM at Ames Public Library, Room TBD
Title IX-It's Intentions, It's Impact and What's Left Undone
Dr. Karen Kedrowski, was named Director of the Carrie Chapman Catt Center for Women and Politics at Iowa State University in January 2019. She leads the second oldest women and politics think tank in the United States. The Catt Center is dedicated to promoting women's political and civic engagement through academic study and engagement.
Tues, Apr 12, 2022, 5:30 PM  Location TBD – Soup Supper
AAUW Fund Supports Our Mission of Gender Equity and  Economic Security. Our focus is Economic Security, Education and Advocacy.
Jean Giddings, Ames, AAUW Fund Chair
Tues, May10, 2022, 7:00 PM at Ames Public Library, Room TBD
Title IX-Collegiate Sports
Dr. Calli Sanders, who has administrative responsibility for 15 of Iowa State's 18 intercollegiate athletic programs, joined the Cyclone staff in 2003 as Senior Associate Athletics Director for Sports Administration. She also serves as ISU's Senior Woman Administrator (SWA) to the NCAA and Big 12 Conference, is an ex-officio member of the Iowa State Athletics Council and served as a campus Deputy Title IX Coordinator.
Sanders has served on the Big 12's television, legislation, ethical conduct, administrative and gender equity committees and twice chaired the Big 12's SWA governance group. Sanders has taught a "Gender Issues in Sports" class at Iowa State since 2012.